Case Studies
Below are examples of website projects I've completed recently.
Serena Barton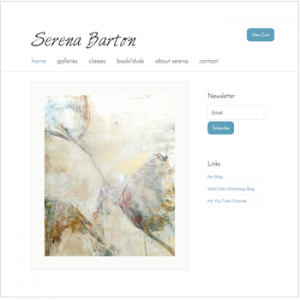 Serena's website was outdated both in terms of the codebase and the design. I moved the content to WordPress, and created a new custom theme to reflect her new branding.
Functionality for this website includes custom post types for classes, books, and art pieces. Ecommerce was implemented using PayPal.
I am thrilled with my new website. Emma did my previous website and when it was time for a change I knew she would come through with something wonderful!

Emma asked me some great questions to refine my vision of what I wanted for my new site. She engaged me in dialogue until she was clear on what I needed and also gave me excellent advice on what to include on the site.  I'm delighted with how easy it is for viewers to navigate my site and how easy it is for me to make additions and changes to the site.

I keep going to visit the site to revel in how much I love it!

Serena Barton
Artist and Art Instructor
SerenaBarton.com
Larisa Noonan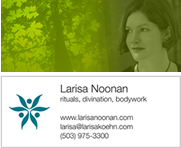 Larisa had an existing website, but it needed to be updated. The theme was clunky and made maintaining the website difficult. I rebuilt the theme keeping the look the same but updating the codebase. Later when it was time to update the look and feel, it was easy to swap in a new header. I designed the new logo/mark, header, matching business cards, and consulted on the tagline and copy.
Emma is a creative and structural genius! By that I mean she will deliver website design, content, and branding that is both beautiful and reflective of you and your business AND that is highly accessible and user friendly for your visitors.

A huge part of why I love working with Emma is her ability to truly listen for what is important to me and to understand who I am and what I offer – perhaps even better than I do myself. Plus, consulting with her regarding all things related to business, branding, website functionality, etc is an absolute pleasure. She can make everything clear and accessible to me, a very non-tech person, and is there to just do it for me when I'm overwhelmed or simply don't want to figure it out myself.

For a person in the healing arts (with little to no technical background) such as myself, she offers the perfect blend of hand-holding and do-it-yourself empowerment!

Highly recommended.
Larisa Noonan
LarisaNoonan.com
Oregon Prison Project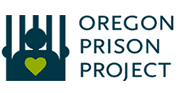 When we started The Oregon Prison Project website, the logo and content were ready to go. Starting with the News Pro Theme from StudioPress, I lightly modified the theme to match their logo, uploaded their content, and set up PayPal buttons for donations.
The message the Oregon Prison Project wants to convey is that rather than punishment, it is compassion and empathy that invite and nurture accountability in those that have done injustice. Emma took our message and created a website, logo, and letterhead that we feel completely expresses our message. We believe that we are more effective as an organization resulting from her support and recommend her work to anyone wanting both effective design and ease of use.

Fred Sly PhD
Program Director
The Oregon Prison Project